Capital Group

The AB Capital Group is the only Polish company to be among the 8 largest IT distributors and suppliers of e-commerce solutions in Europe. AB Is a strong number 1 in Poland, Central and Eastern Europe. It offers nearly 100 thousand products – including the largest global producers of modern technologies such as Apple, Microsoft, HP Inc., HP Enterprise, Lenovo, Asus and Dell – to over 16,000 trade partners. Is a leading provider of cloud services and is on the cutting edge of value added distribution (VAD). Is constantly developing its distribution scope of RTV/AGD appliances and toys, already having established itself as one of the leaders in these market segments in Poland. The company has the finest logistics facilities and the best business efficiency in the industry.
The Group consists of the following companies: AB S.A., Alsen Marketing Sp. z o.o., Alsen Sp. z o.o., AT Computers Holding, B2B IT Sp. z o.o., Optimus Sp. z o.o., Rekman Sp. z o.o.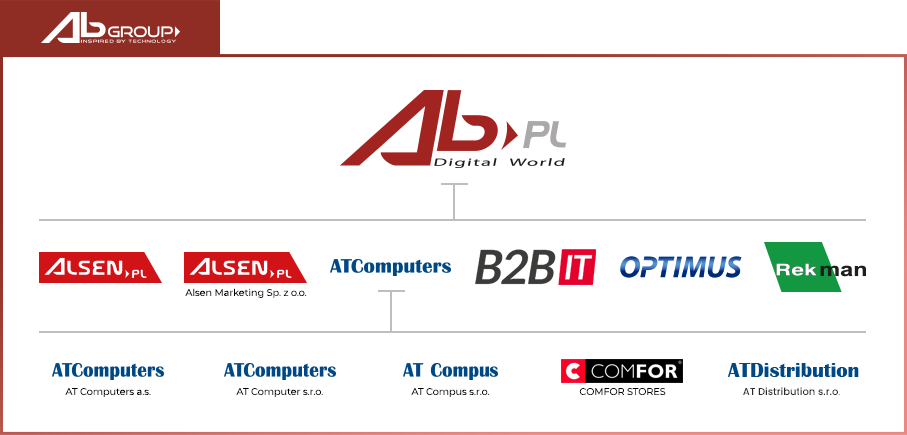 The AB Group manages its own brands: TB, Optimus and Triline, its own franchise networks Alsen (Poland), Comfor (Czech Republic and Slovakia), x-play (shop-in-shop formula, Czech Republic and Slovakia), Premio (Czech Republic) and Triline (Czech Republic ), as well as Optimus (integrators – Poland), Kakto (RTV/AGD appliances – Poland), Digimax (mobile and smart home solutions – Czech Republic and Slovakia) and Wyspa Szkrabów (toys – Poland).

With over 2 thousand points of sale it is the largest franchise network in Central and Eastern Europe.
Since 2006 AB S.A. has been listed on the main Polish stock exchange (WSE).