Registration

Become one of AB Partners! Over 16,500 companies and institutions are already using the wide AB product range. The first step to cooperate is registration, which is simple and quick. Below, in three steps, we describe how the registration process works.


Complete the short form
We have prepared an online form in which we will ask you to provide basic company data. The fields in the form have a help button explaining what data to enter. Filling out the form will not take you more than 5 minutes.


Attach required documents
In the last part of the form you will be asked to attach the necessary documents confirming your business activity. In response to the completed form, you will receive a document that should be signed and returned to our address.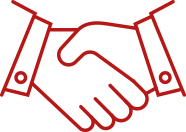 Welcome to the AB partner group!
We will verify the documents sent and then send access data to the ABOnline.pl purchasing system. Access will allow you to view, compare and order products from the AB offer. You will also receive a dedicated sales representative who will be happy to answer your questions or concerns.