The AB Group obtained more than PLN 13 billion of annual turnover
The AB Group's revenues increased by nearly PLN 3 billion in the last financial year of 2020/2021, which translated into a 64% y/y increase in EBITDA and an 86% y/y increase in net profit. Record financial results follow not only from favorable market environment, but are also due to long-term investment in efficiency, organic growth and modern technologies – e-commerce, cloud, warehouse automation, artificial intelligence systems.
Selected financial results: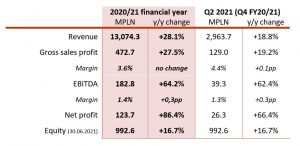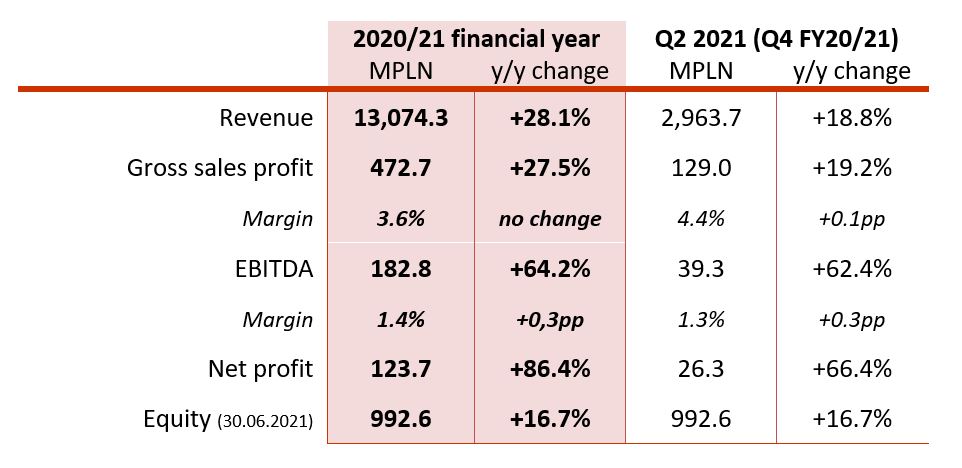 In the 2020/2021 financial year, the Group AB from Lower Silesia (Dolny Śląsk) recorded PLN 13.1 billion revenue (+28% y/y), which translated into a comparable percentage increase in gross sales profit up to nearly PLN 473 million. Business efficiency and operating leverage, together with the favorable environment, led to a 64% y/y increase in EBITDA to PLN 183 million and a more than 86% y/y increase in net profit to PLN 124 million.
– We have achieved record results and we maintain our commitment to sharing our success directly with our shareholders, which will be reflected in the proposed resolution of the General Meeting. Our long-term growth has been possible thanks to the daily efforts of the AB Group's entire international team, and for this reason I would like to thank everyone who has contributed to further strengthening our leading position in Poland and in the CEE region – comments Andrzej Przybylo, President of the AB Group.
– We are a tech company which focuses on e-commerce and process automation, including commercial transactions and logistics operations. We have created lasting competitive advantages and we listen to the needs of our customers. We think and act in the long-term, building healthy foundations of the company and anticipating market changes – emphasizes President Przybyło.
In the second quarter of this year alone (the fourth quarter of the 2020/2021 financial year), the AB Group recorded nearly PLN 3 billion in revenue, more than PLN 39 million in EBITDA and PLN 26 million in net profit, continuing to grow at a double-digit rate. The value of equity approached PLN 1 billion, and the net debt to EBITDA ratio was below 1.2 at the end of June this year.
– Financial security is encoded in our DNA, as is building our financial strength so as to fulfil our role as a distributor in the best possible way. While – due to the effect of a high base and fluctuations in individual markets – it would obviously be difficult to expect such high year-on-year growth dynamics also in the following quarters, the acceleration of digitization in Poland or the Czech Republic seems to be a permanent trend; additionally, macro factors remain favorable and demand has reached a new high. It is worth emphasizing that the AB Group continues to invest in new technologies and efficiency – notes Grzegorz Ochędzan, Member of the Management Board for Finance at AB SA.
While the IT distribution market in Poland in the 2020/2021 financial year of the AB Group (the past four quarters) increased by an estimated 35%, such market categories as notebooks, smartphones, CPUs and monitors recorded even higher growth rates. In the second quarter of this year alone, the IT distribution market in Poland grew by less than 20% y/y, and in the case of notebooks it even presented a slight decline, while on the other hand sales of desktops increased. In the Czech Republic, in the last four quarters the fastest growing categories included CPUs, monitors and notebooks, and the entire market increased in value by ca. 15% y/y. In the second quarter of this year alone, these categories also showed high dynamics.
– Thanks to our experience and broad brand portfolio in our offer, we develop the potential of each segment of our business. High growth rates, in addition to the classic IT fields, can be seen in VAD, digital signage or the gaming segment, where we respond to the demand for new generation consoles to the largest possible extent. It is also worth mentioning the area of smart home, where in the second quarter we doubled the scale of year-on-year sales. For 30 years, we have been close to our customers, consolidating our advantages and generating added value for all participants in the distribution channel – indicates Zbigniew Mądry, Member of the Management Board for Sales at AB S.A.
As part of the national fight against COVID-19, the AB Group initiated the #AByrazem campaign, operationally involving more than 100 people were involved, thanks to which nearly 1,000 pieces of various equipment were sent to people in need. As part of the #AByrazem campaign, AB S.A. purchased ventilators for two hospitals in Wrocław. It also donated toys and accessories as well as foodstuffs to children in institutions in need. Additionally, together with Lenovo and Motorola, the AB Group granted computer and telecommunications equipment, and with partners: Sharp, Whirlpool, Gorenje, Toshiba, Brita, Megabajt, Winix, the AB Group funded household appliances (including washing machines, fridges, and cookers) to various institutions all over Poland, necessary for the requisite change in how the medical staff operates. # AByrazem remains active and acts to support the fight against the coronavirus pandemic in order to meet any needs as they become identified.
The #AByrazem campaign has received numerous awards, and the AB Group and its managers are regularly rewarded by resellers, vendors and competition boards. The most recent awards were granted on 16 September this year, when – during the gala of the IT Champion 2021 of the IT Reseller magazine – the AB Group received as many as four awards in the following categories: distributor of the year, CSR activity, IT industry personality (CEO Andrzej Przybyło) as well as marketing and sales director personality (Patrycja Gawarecka).