Record third quarter 2021 for AB Group
For the first time, the revenue of the IT and consumer electronics largest distributor of in Poland and the CEE region in the period of July-September exceeded PLN 3 billion, gross profit on sales reached over PLN 100 million and EBITDA went over the threshold of PLN 40 million. Due to the highest efficiency in the industry this also translated into a net profit increase of over 30% year-on-year. The strong opening of the new financial year 2021/22 also denotes the historic entry of 10-digit equity values.
Selected financial results: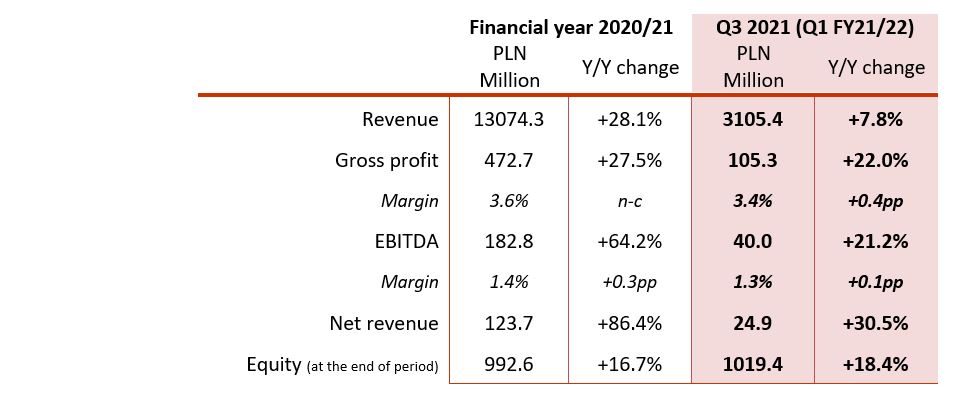 In the first quarter of the financial year 2021/2022, the Lower Silesia-based AB Group recorded revenue of PLN 3.1 billion (+8% y/y), which, with effective use of operating leverage, translated into increased dynamics of growth in gross profit on sales (PLN 105 million, +22% y/y), EBITDA (PLN 40 million, +21% y/y) and net profit (PLN 25 million, +31% y/y).
– AB Group's margins are increasing due to several key factors. We have become a technology company which makes a long-term investment in business efficiency, including automation of commercial and logistics processes or new technologies related to sales. The digital revolution also acts in our favour as it supports the demand for electronic hardware and software, an area with a dramatic change in sales model, where we are actively participating with our own leading cloud platform. At the same time, we saw a favourable change in the product mix in the past quarter, with a greater share of products with traditionally favourable margin parameters – Andrzej Przybyło, President of the Management Board at AB S.A. points out
Further growth prospects in the CEE market, particularly in Poland, the Czech Republic and Slovakia, where AB Group has its strongest presence, look promising. The Polish market shows exceptionally high dynamics of growth in demand.
– This upward trend will certainly continue, as the CEE market still demands and requires investments in IT solutions. Of course, we are now seeing increasing perturbations in supply chains, so we are dealing with a circumstance were meeting a portion of the demand for a particular product range has to be postponed, perhaps shifting between quarters. However, AB Group is very active with respect to purchases, and for several quarters we have taken every opportunity to increase inventories and provide our customers with the fullest possible product availability. This is another advantage of cooperating with us. We also provide our partners with comprehensive support at every stage, including a wide portfolio of tools for financing purchases, an engineering team, dedicated logistics solutions or transfer of knowledge through the AB Competence Centre – Zbigniew Mądry, Member of the Board for Commercial Affairs at AB S.A. points out.
At the end of September this year, the value of AB Group's equity exceeded one billion zlotys, while in the past quarter it managed to increase its inventory up to 1.3 billion zlotys (+20% y-o-y). While selected ranges such as games consoles, graphics cards or products from one of the premium brands show a strong international demand which is yet to be met, in broad terms AB Group is able to act as an example in filling the role of an efficient distributor even in the current challenging external environment; moreover, its purchasing decisions reflect the changing market situation.
– We are also financially prepared for the shift in the market conditions, which why our healthy balance sheet built conservatively and over the long term, allows us to absorb the increase in working capital. We maintain our financial ratios at very safe levels. LTM's net debt to ratio EBITDA is below 1. We only use 28% of the available external financing which gives us plenty of room for future growth both on the basis of our own capitals and bank financing – says Grzegorz Ochędzan, Member of the Management Board, Financial Director at AB SA.
AB Group strongly started the financial year 2021/2022, however the entire financial year 2020/2021 was a record year. In result, the draft resolutions for the next scheduled General Meeting (30.11.2021) include a proposal to pay PLN 1 dividend per share (in total over PLN 16 million) and to carry out a buyback of own shares for an amount of over PLN 16 million. A total of almost PLN 33 million, or more than 26% of the annual consolidated net profit of the 2020/2021 financial year is going to be paid to shareholders – subject to the approval of the GM.
In addition to the effects of operational activities, it is worth to mention the CSR initiatives implemented by AB Group. The #AByrazem campaign constituting a part of the national fight against COVID-19 stands out, as it involves the operational involvement of over 100 persons and the distribution of nearly 1,000 pieces of various equipment to persons in need. As part of #AByrazem, AB S.A. has purchased ventilators for two hospitals in Wroclaw. It has also donated toys and accessories for children and food items to institutions which required support. Additionally, AB Group donated computer and telecommunications equipment in partnership with Lenovo and Motorola, as well as household appliances to numerous facilities across Poland in cooperation Sharp, Whirlpool, Gorenje, Toshiba, Brita, Megabajt, Winix, AB Group as required for the change in the working mode of medical professionals (including washing machines, refrigerators and kitchens). #AByrazem continues to work and support the fight against the coronavirus pandemic in the wake of further identified needs.
The #AByrazem action received numerous awards, and AB Group and its managers are systematically rewarded by resellers, vendors and competition juries. Recently, during the IT Champions 2021 gala organised by IT Reseller magazine, AB Group received four awards – distributor of the year, CSR action, IT industry personality (CEO Andrzej Przybyło) and sales director (Patrycja Gawarecka). AB Group was also awarded the titles of the best IT distributor on the Polish and Czech markets by the research company Context, based on the ratings of resellers in the ChannelWatch 2021 survey. AB S.A. was recognised as the IT distributor of the year for the seventh time in a row.